12-song CD,
includes 2 originals
I'm in the
Mood for Love
Closer Than
You Knew (original)

God Bless the Child

Hit That Jive Jack

Something

These Friends
of Mine (original)

Black Coffee
- featuring -
Andrea Sarmatiuk

Our Codependent Love

Lush Life

Sing Shiny Stockings

I've Got a Great Idea

Route 66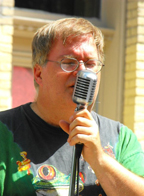 Neil at the Winnipeg Kids' Fringe Festival - 2011
Photo by Keith Sutton
Did you know...
Along with playing live with other musicians, I do this great little show with my iPod Orchestra - it's perfect for house parties and other small events where your stereo isn't enough and a full band would be too much. I've done more of these events than I can remember, quite frankly! It's pretty unique - I don't know of anyone else doing this in Winnipeg. It won't break the bank (like I said - Winnipeg) and your party guests will be impressed. Sound interesting?
Email me!
Awesome
iPod Orchestra
Client quote...
Neil, I can't thank you enough for the job you did at my sister's 60th surprise birthday party on Friday at the Fort Garry Hotel. You are beyond awesome! Your voice equals that of Michael Buble, Frank Sinatra, the Beatles and so much more. Congratulations! Everyone thought you were wonderful.

- K.M., Winnipeg
(Thanks K.M.!)

home | bio | where I'll be next | contact neil
facebook.com/neilkeepvocalist | youtube.com/neilkeep | www.reverbnation.com/neilkeep
(FYI: My facebook and reverbnation fan pages are other great ways to hear about upcoming gigs!)

Neil Keep, Vocalist
---
Proudly presenting my debut CD!
Mr. E & The Jazz Gumshoes
I've received so many lovely comments on the CD...
(and only one bad one, LOL!) - Thank you!
Media Responses:
Made in Manitoba Interview
Radio interview with Neil Keep and Andrea Sarmatiuk -
(Host: Gabrielle Ogilvie, CFRY Portage)
Review in the Winnipeg Free Press August 4, 2011
(Chris Smith)
NEW! CBC.CA, August 15, 2011
(by Kinsey Posen)
Fan Response to the CD:
Thank you, thank you, thank you for the fabulous CD! I love it! I hope you sell loads of them. Everyone should hear how wonderful it is. Gwen Kerr, The Regent Bed & Breakfast, Nova Scotia
I LOVE it!!!! So fun - thanks Neil! -Leanne, Winnipeg
[The] Kulas Family loves your music on the CD! -Kulas Family, Winnipeg
Congrats Neil!!! Your amazing talent is finally paying off!!! Yeah for you...:) -Jo, Minnesota
Got the disc last week - great stuff, Neil. -Andre, Saskatchewan
The CD has arrived! The CD has arrived! It's in my CD player as I type :-) Thanks Neil! You're awesome! (and we don't have your map.....) -Becky, Winnipeg
Neil Keep in concert in my living room! Sounds fantastic my man....getting my kicks for sure!! -Larry, Winnipeg
Got the CD today - thanks for the quick mail-out - listened to it already - Fantastic! -Kirk, Winnipeg
---
Sample a few of the 12 professionally produced tracks on the CD:
If you would like to order a CD, COOL! There are a few ways...
1. mail-order on this website (PayPal or Canada Post)
2. in person at any of Keep's performances or at
3. Tredwell's Music Centre, Winnipeg Unit 6,10 McGillivray Place, ph: 477-4450

The Mail-Order CD
$23 CDN per CD: includes $3.00 S&H for each CD within Canada.
Please contact me directly for international orders. For your credit convenience, a PayPal order button is below. Don't forget to give me your address!
Note: Some people are having a wretched time with PayPal!
If it doesn't work, it's likely it won't ever work for you. If you would kindly opt to mail a check or money order, that's fine too. Just print out my PDF CD order form, fill it in, cut me a check or money order for $23 CDN, payable to Neil Keep and mail it to me - I'll hook you up.
Kindly let me know also that you had trouble with PayPal & I'll send you a replacement stamp. Maybe I need to look at some other solution - PayPal isn't the only game in town!

FYI: checks will be cashed right away, as they are received. Once your check clears, I will ship your CD(s) within the next two business days.
Want to pay cash? Bless your heart. Cash has to be one of the best things ever invented, but for our purposes here it has to be a personal transaction. Don't mail cash. Just don't, OK? I will do my best to have a few copies of the CD in my backpack at all times. If you see me and I have CDs, slip me a cool $20 bill and you save the $3 postage.
On the odd chance I don't have CDs, like I'm in the changeroom at the beach, or in the dentist's chair, we can always do it later. We shouldn't complicate things...
---
Thank you so much for your continued support. On behalf of everyone involved with this project, I hope you enjoy the CD!
xo Neil

---
home | bio | where I'll be next | contact neil
facebook.com/neilkeepvocalist | youtube.com/neilkeep | www.reverbnation.com/neilkeep
(FYI: My facebook and reverbnation fan pages are other great ways to hear about upcoming gigs!)



©2011 Neil Keep. All Rights Reserved. Page last updated: October 30, 2011